The Global Cosmed capital group, owner of the green Biophen brand, is developing the product line. Today, it presents its offer of pro-ecological washing cosmetics from the Botanical and Mineral lines at the Beautyworld Middle East 2021 fair in Dubai, as well as a new line of household chemicals, which it is introducing to the European and Asian markets this quarter. At the same time, it announces further investments in environmentally friendly machinery and formulas that meet the expectations of environmentally conscious global customers.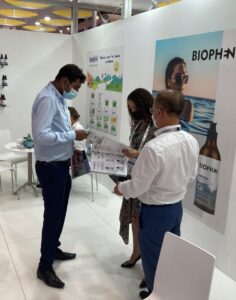 Global Cosmed has just launched the first of its organic household chemicals in Biophen's Harmony line. These are cleaning products whose packaging is 100% recyclate and at least 95% of the raw materials are of natural origin. The high effectiveness of these agents has been confirmed by tests conducted by an external laboratory. Products that meet the requirements of the offer without microplastics include the washing-up liquid, floor cleaner, window cleaner and bathroom cleaner. Even now, two of these products have passed the testing and obtained the Ecolabel certificate; the certification of the remaining ones is underway.
"The Biophen brand is a response to the high demands of Western customers for products with a positive environmental impact. Such a customer expects not only to meet the functional criteria and high efficiency, but also that the product be easily recyclable. Hence our investments throughout the product development chain: from the laboratory, through user-friendly production, the search for transport solutions to the packaging processing at the end of its life. We are sure of our quality and our products, which is why we show them to a wide audience at the International Fair Beautyworld Middle East 2021 in Dubai," commented Magdalena Mielimonka, Vice President of the Management Board of Global Cosmed S.A.
At the Global Cosmed stand at the Asian meeting, contractors will learn about the entire range of Biophen products, including the new Mineral line. It has been refined in such a way that the composition is free from petrochemicals, artificial colors and synthetic fragrances, and its formula is 99% based on ingredients of natural origin. As a result, the products of the Biophen Mineral brand by Global Cosmed received the ECOCERT Cosmos Natural certificate and the Vegan Society registration certificate. This philosophy is consistent with the message of the fair itself, which, according to the organizers' announcement, is to inspire visitors to protect the planet, discover new frontiers and build a better future.