Kitchen accesories, cleaning agents, presents for children – on 6th December, three cars full of goods collected in the Radom branch of Global Cosmed were handed over to the wards of the "Bez Mamy i Taty" Foundation, residing in the "Victoria" Mother & Baby Home in Majdany near Kozienice! This project, completed thanks to the enthusiasm of our employees, shows how much any of us can give and get at the same time!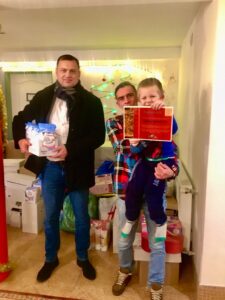 It's no mystery that the time before Christmas possesses a magical power of awakening the will to help others and an unusual agency. Many of us are engaged in charity work all year round, but the power of action we witnessed last week in the Radom branch of Global Cosmed was beyond all expectations.
Mother & Baby Home in Majdany near Kozienice is a place where people in difficult life situation can find shelter, care and support. Eight women and seventeen children found there a safe place to stay, where they can start their life over. The Home is managed by a NGO – "Bez Mamy i Taty" Foundation – whose resourcefulness and daily activities provide a feeling of stability and material necessities to the residents. Their needs are usually very simple, such as childproofing the kitchen or providing cleaning agents.
The project was initiated by the GC employees and it triggered the "1:1" rule. On the one hand, company managament immediately agreed to provide care cosmetics and cleaning agents to the establishment. A supply of Bobini wet wipes and washing gels, Apart body soaps, but also Izo cleaning agents, Kret toilet cleaners and Sofin washing liquids – in short, full assortment produced in the Global Cosmed facilities – have been delivered to the establishment.
Apart from the company itself, its employees contributed to the project as well. Within only one week, they managed to collect an impressive number of pots and dishes, kitchen accessories, but also clothes, games and toys. What's more, every child found a present from Santa, specially prepared and decorated, under the Christmas tree.
Voluntary work is not a novelty in our company but an important element of building a culture of cooperation and integration. We've been aware of that for many years, so the management responded positively to this year's project proposition.
"We want to be a part of the local community. We know that the scale of needs is enormous and that we are unable to answer all of the requests we get. But still, we want to support our employees, reward their enthusiasm and their will to help others. In this particular case, the needs of the Mother & Baby Home residents moved us deeply. We are happy to support the youngest residents and their brave mothers with our kindness and substantial material help.", says Magdalena Mielimonka, Vice President of the Management Board of Global Cosmed S.A.