A new line under the Kret brand was recently launched on the market: BIO Activator for septic tanks and onsite wastewater treatment systems. This offer is directed to owners of houses where onsite wastewater treatment systems are installed (around 2.5 million houses in Poland) and increases the comfort and effectiveness of use of these systems. The new line is an important extension of the market of Kret end users, but also an opportunity to develop new distribution networks.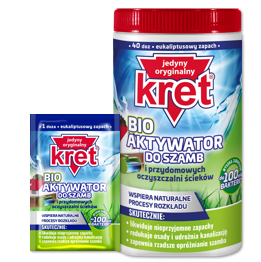 With our own R&D and production line, Global Cosmed S.A. turns to specialised products for the growing market of private real estate. Only in the first 7 months of 2021, more than 25% more building permits were issued comparing to 2020. At the same time, lack of sewage system makes most owners decide to install onsite wastewater systems: septic tanks and wastewater treatment systems.
In practice, usage of such systems can be demanding or even bothersome. That's why the new KRET BIO Activator for septic tanks has been developed in such a way as to help owners reduce the frequence of tank emptying and support their correct functioning while reducing unpleasant odours. All this thanks to the specially selected enzymes and bacteria that effectively support natural biological decomposition processes: they degrade fats, fluidise solid sediments, and unclog sewage pipes without causing installation corrosion.
"For many years, Kret has been synonymous with effectiveness and reliability, and a guarantee of quality and action. BIO Kret line developed within the brand is created with ecology in mind. A formula that is safe for people, animals and environment combined with functional assets (effectivity and distinguished brand, easy storage, 3-year utility life) are strong assets of the new product. These are also our arguments for new business partners: wholesale garden centres, hardware stores and local household stores", says Magdalena Mielimonka, Vice President of the Management Board of Global Cosmed S.A.
The product is available in two types of package: economy pack of 1 kg (40 doses) or easy one-use pouches. Independently of the type of package, the product is characterised by a high content of bacteria: up to 100 billion (bacteria content in one dose is achieved through their multiplication). What is important, you don't need to leave your house to use the preparation: just pour the required amount into the toilet during your weekly cleanup and then flush (50 g for every 1-4 m3 of the tank as a start; once a week 25 g for the same capacity as a preacution). All-year product, effective independently of the temperature.
Recognised until now for its excellent unclogging properties, Kret by Global Cosmed has been extending its portfolio to include bathroom cleaning agents for a long time. Easy biodegradable products with active enzymes are now available for those concerned for ecology: BIO toilet cleaning gel, BIO toilet block and BIO Kitchen & Bathroom drain. Thanks to adding BIO Activator to the group, customers obtain a complex set of non-chlorine products which support them in the daily maintenance of their houses.