Global Cosmed S.A.'s dynamic and consistent actions regarding the sustainable growth were appreciated by the jury of the 11th edition of Polityka's SCR Leaves initiative. The sustainable growth strategy that was adopted, non-financial report prepared in compliance with the best market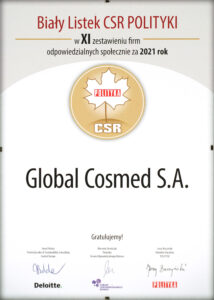 practices, and widely implemented circular economy activities were all recognised with Polityka's White CSR Leaf granted by the editorial team of the Polityka Weekly, Deloitte consulting company and the Responsible Business Forum.
For more than a decade, a group of experts has been rewarding Polish leaders in sustainable growth. As highlighted by the editorial team, companies features on the list are now better prepared and adjusted to regulatory requirements regarding the management within the environmental, social, and corporate governance factors. Climate change, war in Ukraine, and pandemic have shown us the importance of change and implementing responsible solutions that contribute to long-term business resilience. There is no company and no government that can handle existing and upcoming changes on their own. Joint improvement of ESG standards is necessary. The following companies can be found among winners: BNP Paribas Bank, Lidl, LPP, Orange Polska, Solaris, PKN Orlen or Cola-Cola HBC Polska.
At the beginning of this year, Global Cosmed Capital Group has adopted the sustainable growth Strategy – a document summarising the ESG management path implemented already and setting its most crucial future directions. Following it, a body responsible for implementing the provisions of the strategy was designated – the ESG Council. Directors in Task forces strive to achieve this year's goals within the environmental, corporate and employee governance fields. Detailed information regarding the approach to responsible management was presented in the non-financial report drawn up in compliance with the GRI standard. The content includes, among others, information about activities implemented in the area of curating the highest-quality products, pro-environmental approach to design and production of cosmetics and household chemistry at Global Cosmed or in employee matters.
"Deep commitment of Global Cosmed's management to achieve the ESG goals is a proof of extremely serious approach to the issue. On the one hand, we perceive them as a chance to develop a competitive edge and comply with upcoming, rigorous legal regulations. On the other, we are deeply convinced that climate and social changes cannot be further ignored; they picked up immense pace and changes implemented are so abrupt and far-fetched that only a pro-active politics of responding to them is the right and, to put it simply, decent way to behave. Companies such as ours have a wide range of solutions that contribute to stopping negative climate changes. What we need is consistency in implementing them, a long-term plan, and commitment of the entire Team" – commented Magdalena Mielimonka, Vice President of the Board responsible for implementing the ESG strategy.