Once again, Kret granular drain cleaner 400 g won the highest award in the contest organized by "Hurt i Detal" magazine. The trophy is all the more satisfying as it is granted by merchants responsible for stores' daily portfolios.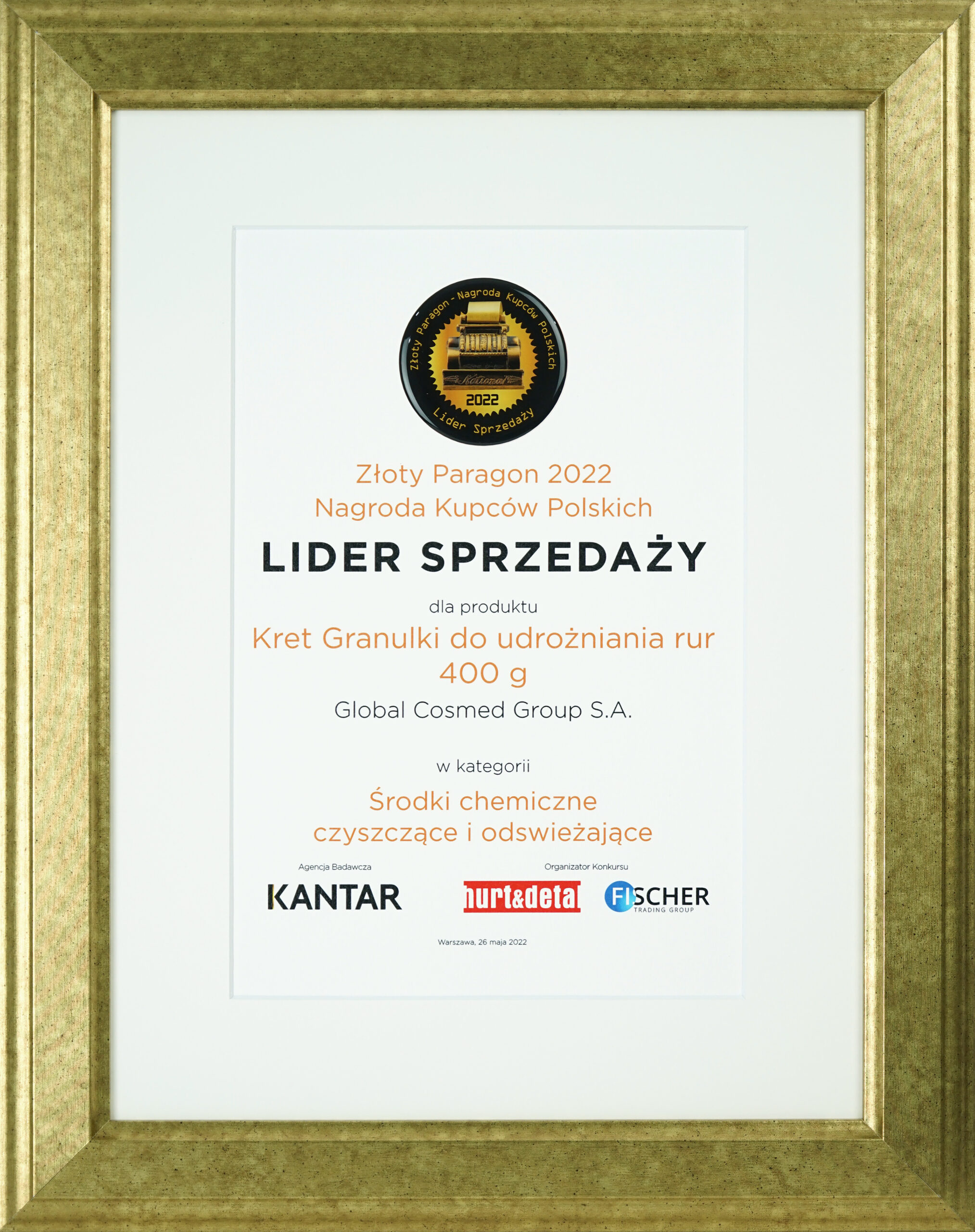 Power and effectiveness are the unseparable attributes of the Kret brand, which has been present on the market for over 40 years. Drain cleaners, gel toilet cleaners, toilet rim blocks and bio products dedicated for septic tanks and onsite wastewater treatment systems have been used in Polish homes for many years.  Their undisputed leader is the granular drain cleaner. The award in the category "Cleaning and refreshing chemical agents" is all the more satisfying as our product won against global brands.
"Kret brand is synonymous with unclogging and effectiveness; these are products of the highest quality, trusted by consumers. Our priority is effectiveness. By choosing any product of the brand, customers are guaranteed Kret quality and effectiveness. The brand position results from the work of many teams, from R&D to such teams as Purchasing, Marketing, Sales, Warehouse, Logistics. Production and control processes, which ensure unalterable quality and repeatability of products in order to satisfy consumer's needs, are of exceptional importance. Thank you for your trust and for choosing Kret granules as a sales leader.  We promise not to rest on our laurels", commented Renata Olszewska, Kret Brand Manager.
Contest laureates were selected by readers of the Polish "Hurt i Detal" magazine, who voted for sales leaders – the best-selling products in their stores. This way it was possible to award products which shaped the Polish retail market in the last year. The contest was monitored by the KANTAR POLSKA institute, which counted the votes and published an indepedent report on the results.
Around 400 products in 64 categories were signed up for the contest. Winners were selected for each category and awarded 2022 Golden Receipt Certificates as Sales Leaders, and two subsequent places in each group received distinction awards.