In cooperation with the visually impaired community, Global Cosmed S.A. developed a system of a fully accessible digital product label. A bump that can be found on a packaging is a part of this strategy. It helps a visually-impaired person find the QR code printed on the label and proceed to a website developed according to the WCAG 2.0 framework.
Global Cosmed, a cosmetics and household chemicals manufacturer, paid more attention to the issue of label readability. At the same time, along with experts from Towarzystwo Opieki nad Ociemniałymi in Laski, they focused on solutions used by visually impaired people while running daily errands, such as shopping. That's how a three-step accessibility system for everyone came to life: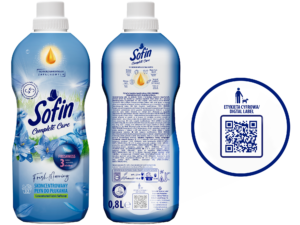 The label of a modified product bottle features a specially marked QR code that can be scanned by widely available apps.
But to scan it, a visually impaired person has to find it first. A small bump underneath the QR code on the bottom part of the bottle guides them to the code.
The website, specific for every scent of the product, constitutes the third element of the system. The website is developed according to the WCAG 2.0 (Web Content Accessibility Guidelines) framework – it's a set of documents containing recommendations on developing websites accessible to all Internet users.
This way, the product purchased – in this case Sofin fabric softener – is fully identifiable for visually impaired customers, it's safe and gives the customers the freedom to use it without the participation of third parties.
"Every person has the right to be fully involved in public life, whether we are talking about schooling system, architecture, means of transport or mass media. It's the small steps that contribute to building accessibility: integrated classes at schools, audible pedestrian signals or Braille labelling on medications. I hope that the solution proposed by Global Cosmed will make it easier to use our products for millions of visually impaired customers" – sums up Magdalena Mielimonka, Vice-President of the Management Board.
Sofin fabric softeners – first products in the portfolio with a digital label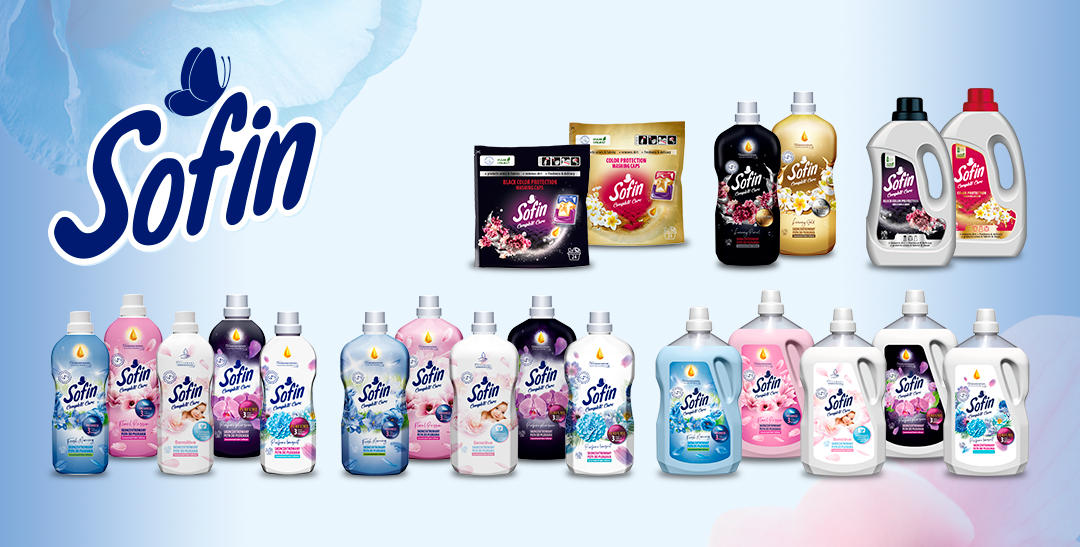 The pilot launch of the digital label system involved 800 ml Sofin fabric softener bottles. In further steps, the system will cover all laundry detergents.
Sofin is the first group of Global Cosmed products that was developed according to the principles of the Integrated Product Development System. This means that implementing a social innovation is not the only important feature of the product; it comes with many more important solutions. A concentrated formula offers more washes, the packaging and label are made of recyclable materials and special perforation facilitates proper waste segregation. All detergents are dermatologically tested. The bottle shape was developed in terms of logistics efficiency that comes with tangible benefits, even at the level of the carbon footprint. Functional expectations of the customers are reflected in fragrance compositions strengthened by scent capsules that maintain the fresh fragrance for up to 3 months. All concentrated fabric softeners soften and also protect the fabric and prevent colour fading. These come in as many as 4 fragrances – Fresh Morning, Floral Passion, Sensitive, and Perfume Pleasure.
The innovation is compliant with the principles of Chemical Strategy for Sustainability and expected CPR revision concerning, among others, digitalisation of labels.
Vision impairment affects a growing number of people
According to research published this February, a percentage of people with diagnosed sight defect or ocular diseases amounts to as much as 54%, with short-sightedness being the most common.* In the era of ageing society, the process progresses with each passing year. Meanwhile, extensive legal requirements regarding product information or the need to apply the principles of ecological design (such as decreasing available printing surface) result in small font size on the label that remains illegible to many customers.
On the other hand, we suffer from lack of effective solutions helping visually impaired people use FMCG products. A convex triangle that can be felt under your fingertips on certain household chemicals may be enshrined in law, but it is not recognisable enough in the community of the visually impaired. What's more, its limited role is related to the fact that it does not carry any information beyond the warning.
* Public opinion study conducted for Vision Express with the CAWI research methodology by IQS Sp. z o.o. in February 2022 r. on representative sample of 1679 Polish respondents.