The Bobini brand and the Bobini Kids cosmetics line have been certified as the Children's Brand of the Year 2022. Thus, the Global Cosmed team was awarded for children's products of the highest quality, a constant drive to raise standards and the introduction of modern solutions for the most demanding consumers – children.
The Children's Brand of the Year programme is one of the most credible and opinion-making events, during which the best brands in the product and service m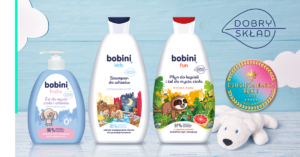 arket are awarded annually. As Ewelina Szczepacka, Director of the Children's Brand of the Year Project, puts it: "The winners of the Children's Brand of the Year title are reputable and trustworthy companies which offer top-quality products and services using cutting-edge technology and innovative solutions that put quality and reliability first. The winners of the award consolidate their position among the market leaders and are identified with the highest quality of the products and services they offer."
Bobini is a brand created out of concern for children, prioritising products made with the highest quality ingredients, mostly of natural origin, to offer reassurance and safety while allowing the child to develop creativity and curiosity about the world. Care full of tenderness is a slogan that fully captures the spirit of the Global Cosmed's Bobini brand. This year, it launched a completely revamped portfolio of products for the care of the little ones. The offer has been even more meticulously refined to meet consumer and market requirements, and the whole process was preceded by extensive consumer research.
"The brand consistently focuses on the highest quality formulations – containing up to 98% naturally derived ingredients. Almost all formulas are hypoallergenic and packed in environmentally-friendly packaging. An important advance is the expansion of the offer for older children with the introduction of the new Kids line. The changes also include a new graphic approach and the development of the brand hero. It is a dog, synonymous with protector, companion and friend, and a direct reference to the values that a trustworthy children's brand like Bobini must embody. It is a great joy and satisfaction that all these activities have been recognised and appreciated with the prestigious Children's Brand of the Year 2022 award," said Magdalena Miele, Vice President of the Management Board of Global Cosmed S.A.